Your Innkeepers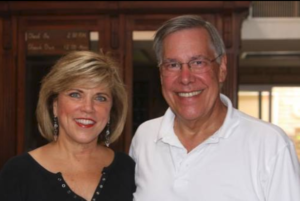 Your Innkeepers are Lynne and Gerry. We've made substantial renovations to restore the beauty and functionality of this historic property, and we're dedicated to making your stay with us enjoyable and relaxing. You'll feel at home the moment you walk into our lobby. Join us for sun-filled days, glorious sunsets and brilliant starry nights. It will soothe your soul and renew your spirit .
The Stage Stop Inn was originally built in 1969 by local ranchers Anne and Floyd Stradling. It stands near the site of the Patagonia stop on a branch of the famous Butterfield Stage Line. In 1882 the old stage line was replaced by the New Mexico & Arizona rail line, which connected Nogales, Mexico with the main Southern Pacific line in Benson, AZ.
Anne and Floyd were friends of John Wayne, and they built the Inn in part to accomodate cast and crew filming in the high desert around Patagonia. Many Westerns were filmed in this region. Among them are Red River, Rio Lobo, Rio Bravo, Young Guns and Tombstone. The San Rafael Valley, located just 11 miles away served as a location in the filming of Oklahoma. The hotel also provided comfortable lodging for visitors to Anne Stradling's famous Museum of the Horse, which was relocated to Ruidoso, New Mexico after Anne's death.
The town of Patagonia rests between the majestic Santa Rita and Patagonia Mountains at the confluence of Harshaw and Sonoita Creeks. Set among rich foothills and valleys at 4,000 feet, Patagonia enjoys an excellent climate. During summers the daytime temperatures are normally 10 to 20 degrees cooler than Tucson and Phoenix, and nights are cool and refreshing. Many artists and authors make Patagonia home, contributing to our vibrant cultural community. Guests come from far and wide for birding, hiking, cycling, hunting and just plain kickin' back. We are centrally located between Southeast Arizona's growing wine region, only 12 miles east, and Patagonia Lake State Park, just 7 miles west.
Nearby ghost towns bear mute testimony to the boom days of cattle ranching and mining that brought so many settlers to this territory in the 1800's. While mostly ruins remain, old settler cemetaries give a glimpse into the thriving past of these these local communities and industries.